Tor Sandell – Piano
Olle Karlsson – Drums
Daniel Björklund – Guitar
Fredrik Sommar – Bass
Martin Olsson – Guitar
Nevärlläjf was born in Mora in late 2005 as a small project by the band members who were then high-school comrades. After the very first show they all agreed that the band was something worth continuing to work with and to explore further. In the following two years some minor shows were played, songs were written and a lot of rehearsing was done.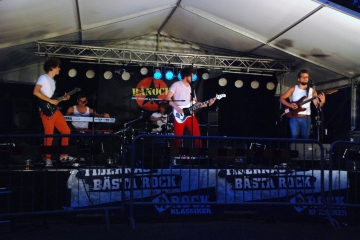 It was not until the year 2007, however, that the band really started to grow, when Nevärlläjf won the national contest called Musik direkt. The prize was the opportunity to play at Stockholm Jazzfestival and Sandviken Bangen Jazzfestival.
Just before christmas 2007 Nevärlläjf met up with Beardfish and Hot Scandinavian Dirt for some really great gigs. During spring the same year, the second demo was released. The demo was the start of what would later become the debut album Klusterfloristen.
In late 2008 Nevärlläjf negotiated a contract with Musea Records and it was decided that they would record and release their first album.
The recording took some time and there were some nice gigs played during spring 2009, as well as endorsement deals with Lakland and Woodo Guitars. During the summer Nevärlläjf managed to get things finished and on the 29th of november the album finally was released at a great release party with Klotet and Mad Artwork at Stampen in Stockholm.
Reviews
"Altogether very impressive and absolutely one of the most captivating albums I have come across this year."
Interview and review at www.rockprog.com